About the Book:
ISBN: 9789350880760
Language: English
No. of pages: 320
Year of Publication: 2013
A slow rasping sound made me turn. I jumped back, the cell phone leaving my hands and smashing against the concrete floor. Someone was seated on the chair, rocking back and forth. Through the fallen light, I could see those hands placed on the arms of the chair, two gruesome wrinkled limbs with ugly boils plastered over the black skin. The red bangles on its wrists shone in my eyes, momentarily blinding me. That thing and I call it a thing because I could sense it wasn't human as no human could have such a hideous form, as vile an existence as the one seated opposite to my horrified self."

From a honeymoon in the hill that goes horribly wrong to an obsessed lover who wants his first love in life and in death; From a mentally deranged man who collects body parts of various women to stitch together his dream girl to a skeptic who enters a mansion of horrors to win a bet and much more, this book is filled with scenarios that are guaranteed to give you goosebumps and sleepless nights.

'The Other Side' is a collection of thirteen tales of the paranormal; a world that our eyes refuse to see, our ears deny hearing and our senses ignore the feel of. This is a book for someone who is brave enough to take up this invitation to journey through uncharted waters along with the authors, who were inspired by some bizarre experiences to pen down this work where the lines of reality have been blurred by the footsteps of imagination.

Each story takes you on a tour de force of unadulterated horror and draws upon the deepest fear in the human mind- the fear of the UNKNOWN!
About the Authors: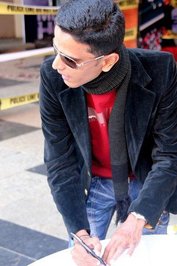 Faraaz Kazi:
The winner of the 2013 National Debut Youth Fiction Award and also the recipient of the YCOF National Excellence award in Creative Writing apart from being the first Indian author to win the coveted 'Best Debut (Romance)' title at the international Goodreads choice awards, Faraaz Kazi has been tagged as the 'Nicholas Sparks of India' by many and is rated amongst the top male romance writers in the country.
A certified soft-skills trainer and a three-time post grad, Kazi is the Founder and CEO of DigiImprint Solutions, India's first exclusive promotional agency for authors and artists that recently forayed into handling corporate brands. He also consults for a few public relations firms and publishing houses. Felicitated by numerous institutes, bodies and organizations alike, Kazi is a well-known name in the social media and literary fraternity. He is fondly referred to as 'The Young Marketer' and operates a revolutionary blog with the same name and writes for major media houses.
Kazi is a fellow member of the esteemed 'Film Writers Association of India.' Truly Madly Deeply, his debut mainstream romance novel is the only Indian book to have seven category nominations in the Goodreads annual readers' choice awards and is also the only Indian book in the 'Top 100 YA Global Fiction' list. Kazi is a voracious reader and counts singing as his second love.
You can connect with the book on Facebook at
http://www.facebook.com/TMDbyFaraazKaazi
You can connect with the author on Facebook at
http://www.facebook.com/FaruKazi
You can interact with the author on Twitter at
http://www.twitter.com/FaruKazi
You can see the visuals on Pinterest at
http://www.pinterest.com/FaruKazi
Vivek Bannerjee:
A pediatrician by profession, Vivek Banerjee is an author by accident.He lives in Saharanpur with his parents, obstetrician wife and two children. The pressures of his profession leave him with little leisure but he still finds time for his varied interests. An avid traveller, he has covered the length and breadth of the country in real life and the rest of the world in his imagination. A voracious reader, music lover, self-confessed geek and an amateur ornithologist, he would rather walk the road less travelled, given the time and opportunity. A Bengali by birth, he has grown up in various towns of North India and studied in many different schools and colleges. He started writing on Rediff blogs where he is known as Ben and went on to write his debut novel THE LONG ROAD.
He has also been published by Westland in 'Chicken Soup for Indian Doctors Soul', Grapevine India in 'Shades of Love' and APK Publishers in 'Shades of Black'.
He won an all India short story competition for his story 'The hunter'which was published in 'Kaleidoscope' by Parlance publishers.
An anthology of stories about the paranormal, 'The Other Side', co-authored with Faraaz Kazi is a recent offering.
He is also a part of 'Carnival' by
Litizen.com
My Views:
I usually do not read Foreword of any book but I do not know what made me read this one. I must admit that it is really well-written. So well written that it increases your interest in reading this book of Horror Genre. This is the first time I am reading this genre as this book was sent to me by one of the authors for review.
I reached the part where it is mentioned:
"Just like the fear that you have now, yet you don't. For unknown to you ... there is someone standing over your shoulder, floating in mid-air with a frozen expression from an era long gone, reading this with you. It's black marble eyes seem to float over every word that you are processing right now. It makes me wonder why it is holding on to your shoulder though... for a being such as this, needs no support. And why is it smiling now ... now that you have read this ... now that I have told you ... now that you know that is wants you to continue"
and then I closed the book, did not dare to look over my shoulder and slept with lights on. Since I find time mostly at nights to read books, I wondered how I would be able to complete reading this book if it has this kind of effect on me!
Finally, I managed to read the book (and yes, I read at nights) and it was a scary experience. The prelude also gives a personal and special touch to the book. When you start reading, make sure you do not miss out the Foreword and the prelude :)
As I continued reading I realized not all the thirteen stories are as scary as I thought they would be. Yes, of course they did have some lasting impact on me however, I believe, once the authors raised your expectation levels in the beginning of the book, they should be able to hold the interest till the end. Nevertheless, the good ones easily mask the weaker ones. Each and every story has the potential to make you wonder about "the other side".
Some of your beliefs are bound to fly out of the window and open your eyes to something you did not believe in earlier. For me, most of the times the happenings around me made me jump out of the chair in fear rather than what I read in the book. It seems as the 'universe' assists these two for creating that atmosphere for the reader. For e.g. I was reading an 'interesting' scene in the book and suddenly the towel placed on the backrest of the chair I was sitting on brushed against my skin as it came to 'life' because of the fan.
Once the neighbour's dog decided to bark right when I was reading and some other time a crow flew across the window of my room. Pick up the book and be prepared to be scared.
About
-
Cover - Spooky
Title - makes us wonder
Pricing - seems appropriate
Quality - good quality
Fonts - good for reading at nights
Characters - well-defined
Narration - well-narrated
Language - good
Flow - good
Description - the description / blurb is what would make the reader buy the book if he/she is casually browsing the books in a book-store
Story-line - interesting mostly, a few are not as scary as they should be
Reader's Expectations - are bound to be increased after reading the foreword and prelude
Overall rating of the book - 7/10
This review has also been published on
Half-Baked Voices
- The Blog of
Half Baked Beans Publishing
---
Return to Main Page